Cain's Ballroom (423 N Main St, Tulsa, OK)
Doors Open: 6:00 PM
Pussy Riot, the internationally renowned collective whose politically charged performances have challenged oppression around the world, will accept the 2023 Woody Guthrie Prize on May 6 in Tulsa at Cain's Ballroom, followed by a Pussy Riot performance of its Riot Days multimedia show.  The Prize presentation and Pussy Riot performance will both occur as part of the Woody Guthrie Center's 10thAnniversary Celebration, May 5 – 7.
About the Prize
Join us on Saturday, May 6, for the annual fundraising event presentation of the 2023 Woody Guthrie Prize honoring Pussy Riot. The Woody Guthrie Prize is given annually to an artist who best exemplifies Woody Guthrie's spirit and work by speaking for the less fortunate through music, film, literature, dance or other art forms and serving as a positive force for social change.
Maria "Masha" Alyokhina and Nadya Tolokonnikova will accept the prize on behalf of Pussy Riot, which also will be represented by Olga Borisova, Diana Burkot, Taisiya Krugovykh, Vasily Bogatov, and Alexander Cheparukhin at the May 6 event at Cain's Ballroom.
Proceeds from the annual event help support the Woody Guthrie Center®, which features state-of-the-art, interactive exhibits on his life, art and creative legacy. The center is home to Woody Guthrie's comprehensive archives, including the original, handwritten version of his landmark anthem, "This Land is Your Land," which is available for viewing at the center.
Learn more here.
Tickets
This fundraising event is presented in conjunction with the Woody Guthrie Center® 10th Anniversary. Discounted and presale tickets for members of the center are $30, available now. Public tickets go on sale Friday, March 24 at 10 a.m. CT for $40 and will be $50 at the door. Tickets are available from Cain's at the link on this page. Please note this event is 18+.  Standing room only.
About Pussy Riot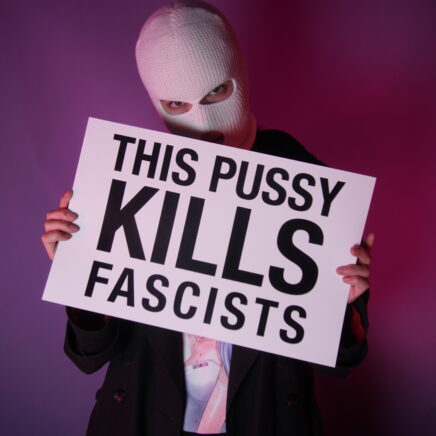 "It feels fitting to be awarded in the spirit of Woody, I think he would love Pussy Riot's anti-fascist message. Usually, when Pussy riot gets added to lists, it's not always a good thing, but we are honored to be on this one.

We don't really do folk, but we don't really do punk either, we simply scream and protest as loud as we can, and hope we can show others they can do the same. Like Woody said, any fool can make something complicated, our message is clear and simple. Anyone can be Pussy Riot. Riot. Riot. Resist.
Oh and a quick reminder to Vladimir Putin and anyone who supports his Z regime … All you fascists are bound to lose."
-NADYA TOLOKONNIKOVA
Pussy Riot is a Russian feminist protest and performance art group that became popular for its provocative punk rock music which later turned into a more accessible style. Founded in August 2011, the group staged unauthorized, provocative guerrilla gigs in public places. The group's lyrical themes included feminism, LGBT rights, opposition to Russian President Vladimir Putin and his policies and Putin's links to the leadership of the Russian Orthodox Church.
The group gained global notoriety when five members of the group staged a performance inside Moscow's Cathedral of Christ the Saviour on February 21, 2012. The group's actions were condemned as sacrilegious by the Orthodox clergy and eventually stopped by church security officials. The women said their protest was directed at the Orthodox Church leaders' support for Putin during his election campaign. On March 3, 2012, two of the group's members, Nadezhda Tolokonnikova and Maria Alyokhina, were arrested and charged with hooliganism. A third member, Yekaterina Samutsevich, was arrested on March 16. Denied bail, the three were held in custody until their trial began in late July. On August 17, 2012, Alyokhina, Samutsevich and Tolokonnikova were all convicted of "hooliganism motivated by religious hatred" and each sentenced to two years' imprisonment. On October 10, following an appeal, Samutsevich was freed on probation and her sentence suspended. The sentences of the other two women were upheld.
The case was taken up by human rights groups, including Amnesty International, which designated the women as prisoners of conscience, and by a number of prominent entertainers. Having served 21 months, Tolokonnikova and Alyokhina were released on December 23, 2013, after the State Duma approved an amnesty.
Videos
Pussy Riot at Circle Cinema
On Sunday, May 7, Pussy Riot will be at Circle Cinema for an "Evening With" event featuring film clips, conversation, and audience questions. Get more details and tickets here.