Members receive free admission to this concert (limit 2 tickets per member). When purchasing your ticket(s), log-in with your member account to reserve your seat.
Join us on Thursday, October 13, as we welcome Roy Book Binder back to the Woody Guthrie Center® stage.
Roy Book Binder has been rambling around the world for the past 45 years. He gave up his Greenwich Village pad in the early 1970s and lived in his 'Tour Bus' for the next 15 years criss crossing the US and appearing at festivals throughout Canada & Europe.
Book Binder, travelled with the legendary Rev. Gary Davis in the late '60s. 'The Book' recorded his first solo acoustic Blues album in the '70s, which was the first to receive 5 stars in Downbeat Magazine. In the late '80s, 'The Book' was part of Bonnie Raitt's East Coast Tour, which included an appearance on the Grand Ole Opry which led to almost 30 appearances on Nashville Now's Ralph Emory Show! In the '90s, he often appeared with Jorma Kaukonen (who recorded 2 of Roy's songs).
"The Good Book", Roy's latest release of all original songs, reached #3 on AirPlayDirect's Americana charts. #1 was Guy Clark & #2 was Townes Van Zandt.
Roy has the goods: the original, the bare-knuckle, the low-down… blues. Who can say they were friends with the Rev. Gary Davis, Pink Anderson and Robert Lockwood? And toured with Arthur Big Boy Crudup, Hot Tuna, JJ Cale & Bonnie Raitt? Roy can. He has the stories, the licks, and the mystery of timeless music in his fingers. He's been featured on a PBS special and interviewed by Terry Gross on "Fresh Air." He's also a regular at Fur Peace Ranch, where he teaches along with Jorma Kaukonen. When he brings his 'Tour Bus' to town, a one-man blues-fest ensues. He plays and he entertains, feeding us music and stories, and the evening is a celebration for us all. We're privileged to have Roy here to preserve–and extend—the tradition of great American blues music. (James Hipp)
Ramsey Thornton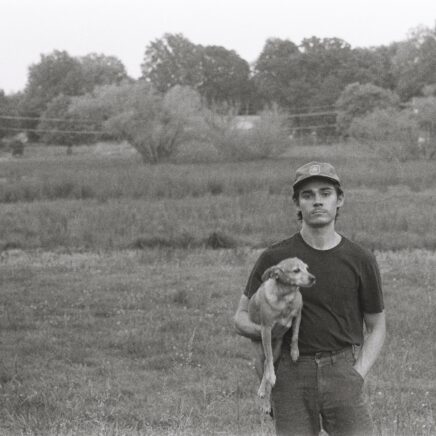 We are excited to have Ramsey Thornton performing as the opening act for this concert.
Based out of Tulsa, OK, Ramsey Thornton is a songwriter, banjoist, and drummer. Continuously looking for ways to mix the elements of folk with more contemporary styles, Thornton's writing prioritizes songs that are lyrically-driven while taking the time to ensure solid groove and interesting melody. Recorded at Cardinal Song Studio in Oklahoma City, OK, his self-titled EP was released in July of 2022. Previous projects include The Gales.